Card Design Software and Visitor Management
Click for details about Be Our Guest Software
Our select card design software tools give option of using Windows vs. Mac operating systems and dongle-free vs. dongle-based program execution. In either case, the design process is ultra-intuitive. Costs of packages are very competitive.

CardPresso is an innovative solution for designing ID cards, encoding and managing card issuance in a simple and effective way. You can choose to run the program on Windows, or the latest Mac operating system with the use of a dongle. Basic package is free with the purchase of an Evolis card printer. Database connection version is available as an upgrade at a nominal cost.
New eMedia CS2 is a dongle-free Windows based card design, encoding and printing package. Three versions are available including Standard, Professional and Expert. It is now packaged with BeOuGuest Visitor Management System and can now provide full premise ID management.
eMedia CS2 is brand new product.
However, it reads eMedia Card Designer & eMedia CS templates.
eMedia CS2 is the ultimate tool for plastic cards design.
Design and edit your cards in a user friendly environment.
Fill-in your card with texts, images, barcodes, QR-Codes and different shapes.
eMedia CS2 can read and modify data in your database.
Acquire your photos from your digital camera, webcam or smartphone.
Resize, crop, rotate and zoom your pictures with your mouse.
Print your card, encode the magnetic strips, write the smart chip in a single operation.
What can you do with eMedia?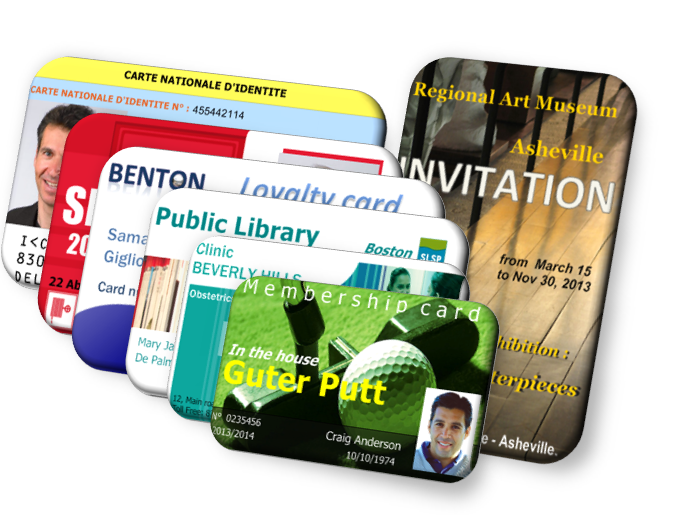 Identification badges
Security and Access Control badges
Transit passes
Membership cards
Customer Loyalty cards
Bank and Payment cards
Official Documents
Card design and visitor management software progams from StellarID are offered from a perspective of easy set-up, intuitive navigation and a simple design process. You can choose from the latest CardPresso card design applications for both Windows and Mac platforms. There are multiples levels of upgrades to better customize your design and card printing needs.
You can also select the lengedary eMedia-CS application for Windows at very competitive price. It is a card design and printing tool at its finest.
CardPresso Design Software
eMedia CS Card Designer
For visitor registration and tracking sofware solutions, we can match your requirements and budget with choices of Evolis Hello Visitor bundle, or Viscount Facility Friendly version of visitor applications. Contact us at 973-383-9833 for more details.